2020.12.21

A Disappearing Craftmanship of "Yuki Tsumugi"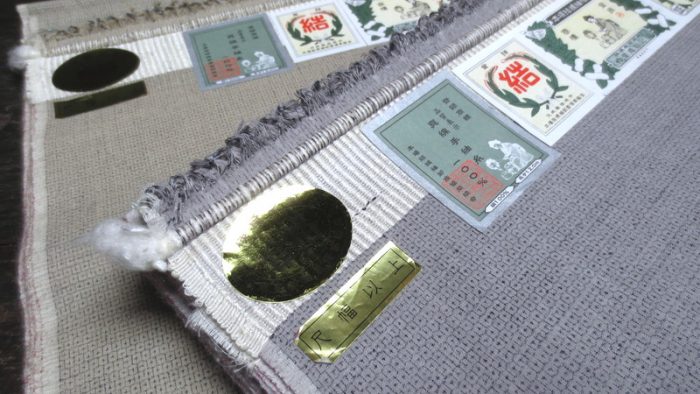 Yuki tsumugi production consists of a multiple steps, complete division of labor, involving different artisans at different stages. If one of experts retired, it is not replaceable. In this Covid-19 pandemic situation, the production rate has dramatically decreased. We are again about to lose one of precious traditional wisdoms of craftmanship.
There are 3 famous production processes on Yuki tsumugi; (1) Hand-spinning (2) Kasuri making (3) Jibata loom weaving. In total there are more than 20 different stages. Each stages are highly professionalized by each seasoned artisans. We cannot expect a multi-, cross- skilled artisan who can keep the tradition by himself, who are seen in many other weaving regions. It does not work in Yuki tsumugi production. The sophistication of each stages and the production system is unparalleled to other weaving traditions. That's it why Yuki tsumugi is called, a king of Tsumugi in Japan.
One of the most important processes, "Surikomi" Kasuri making is at a risk of dyeing out, due to the separations of seasoned craftspeople.
So that we would lose the opportunity to see the very intimate kasuri patterns, such as tiny "Kikko Kasuri" or "Jyuji Kasuri".
There are two ways on Kasuri making in Yuki tsumugi; (1)Kukuri(ikat) and (2) Surikomi. (1)Kukuri is a ikat resist dyeing technique. (2)Surikomi is not resist dyeing, but directly robbing in colors in order to make the pattern. Surikomi technique makes possible more intricate patterns on lighter color or white fabrics, not on darker color fabrics.
Surikomi is all daunting and intense manual task. Placing threads directly on the sketch for marking by black ink, and then rub in colors, using brushes one by one. If the kasuri pattern is more intimate, more daunting marking and rubbing processes are repeated.
Surikomi does not allow even a smallest mistake nor misalignment error. Because if that was the case of the pattern throughout, even a smallest kasuri pitch alignment could effect the rest of the whole pattern.
At the peak of Yuki tsumugi craftmanship, we see this masterpiece, colorful 160 Kikko and Jyuji kasuri combination. Today we do not see this level anymore, because the craftsman who could do the Surikomi of 160 Kikko level, has already retired. This is a phantom product.
Before around 2000, it was more common to see those thoroughly patterned Kikko or Jyuji kasuri Yuki tsumugi. But in next few years we need to expect that we cannot see these anymore. We still have few craftsman who can do the finest Surikomi, but we do not have enough orders and cannot provide them enough tasks to keep the precious technique. Even a half month brank of the intense task, they get out of practice, as they say.
Now is the last chance to take the newly-woven world most precious silk textile in your hand. We, Hirotatsumugi can hear your custom-design order of Yuki tsumugi, so please feel free to inquire us.
---