ABOUT US
History


Founded as a Yuki Tsumugi manufacture in 1946
The founder, Hirota Kanzo. It was one of the earliest attempts
using an airbus for a commercial purpose

Our office is a traditional "machiya" merchant townhouse
Located in Kyoto, almost unchanged over 100 years
The founder, Hirota Kanzo (born in 1910), after experienced at the largest Kimono textile merchant, went over to China and established his own textile factory in Hong Kong, dealing with the Japanese militery. But after the WWⅡ it was forced to be requisitioned.
He lost everything, coming back to the devastating Japan, and but developed a new business with his concrete belief; although Kimono is no longer a daily wear for us, but should be remaining as a national costume, therefore specializing in Tsumugi by forcusing on the highest quality should last for a longer percepective.
In 1946, He founded Hirota Tsumugi as a Kimono wholesaler/supplier specializing in an authentic Yuki Tsumugi. Establishing a local mill with the seasoned craftpeople, Hirota tsumugi wholesaled over 5,000 bolts annually, which was the largest supplier and known as "Hirota of Yuki tsumugi".
Now, we deal with a variety of the suprior quality Tsumugi Kimono fabrics, not only Yuki tsumugi but also including Oshima tsumugi and over 50 differnet traditional Tsumugi fabrics. We hold a consistent belief of being a speciality of the highest quality Tsumugi.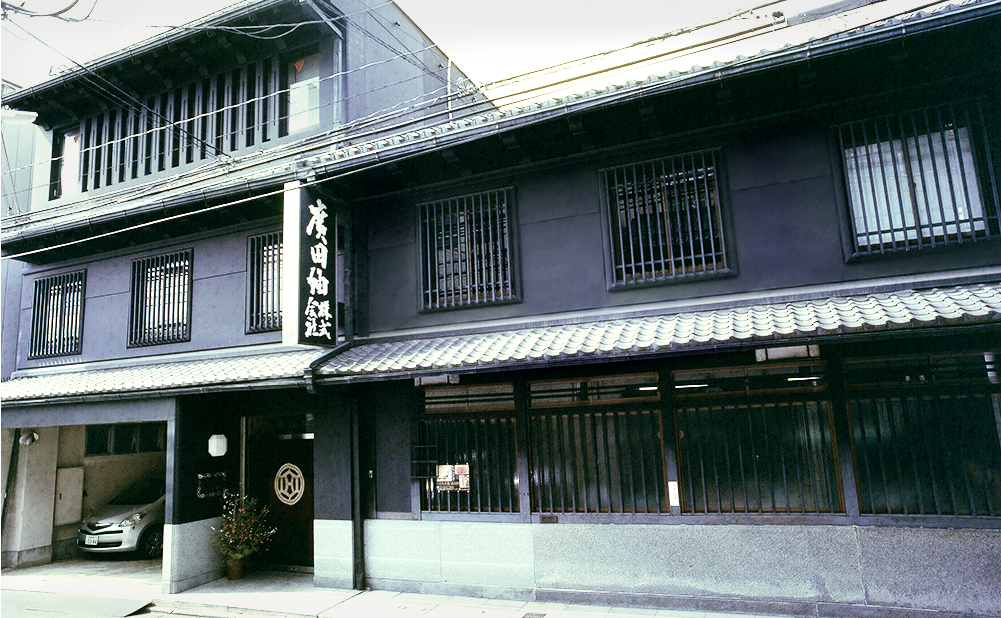 Our company/store today: A traditional merchant townhouse, located in Higashitoin street, Kyoto.
COMPANY NAME
Hirotatsumugi Co. Ltd
PRESIDENT & CEO
Shuzo Hirota
BUSINESS SEGMENT
Manufacturing wholesaler of kimono fabrics
ESTABLISHED
1946
LOCATION

MAIN OFFICE

301 Higashitoin-dori Bukkoji agaru, Shimogyo-ku, Kyoto 600-8095
TEL (+81)75-351-1414 FAX: (+81)75 351 2494
MAIL contact@hirotatsumugi.jp

TOKYO BRANCH

902 Panteon Nihonbashi Mitsukoshi Mae 2-5-8 Nihonbashi
Muromachi, Chuo-ku, Tokyo, Japan
*Not open for International customers
Access
Located in a hub of Kyoto, a few minutes walk from Shijyo or Karasuma station
From KYOTO STATION

About 10 mins (by Train or Taxi)
From OSAKA STATION

About 45 mins (by Train or Taxi)
From TOKYO STATION

About 2 hours and half (by Train)
From KANSAI INTERNATIONAL AIRPORT

About 1 hour and 50 mins (by Bus or Train)
Rental Venue Gensou-an 玄想庵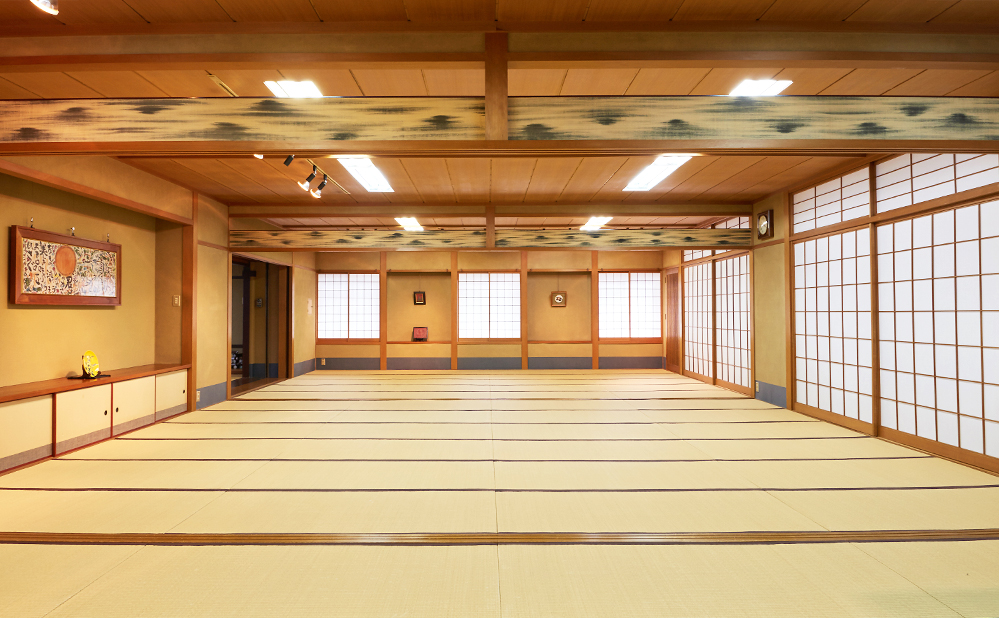 Our traditional merchant townhouse is over 100 years old and one of the largest Machiya in Kyoto.
We open our traditional work place for a rental gallery and event space, where you can use your selected Washitsu rooms for various applications such as a international conference or Maiko, tea ceremony experience.
For business owners...
You can select fabrics from stock and we can ship worldwide. You have a wide choice of Japanese fabrics, so contacting us and hearing about your ideal fabric would be the best thing to do first.
We are happy to have a contact from any types of business sectors or artists including fashion, interior, modern art, luxury hotels or Jewelry and so on.
Basically our fabrics are woven in an 40cm × 1280cm bolt, shipping from one bolt order. But also capable of weaving a wider width Tsumugi fabric at maximum 110cm. Based on swatches or photos of our past fabrics, we can hear the custon design request.
We can ship the swatch fabrics of which you are interested in. So plase do not hesitate to contact us.
contact us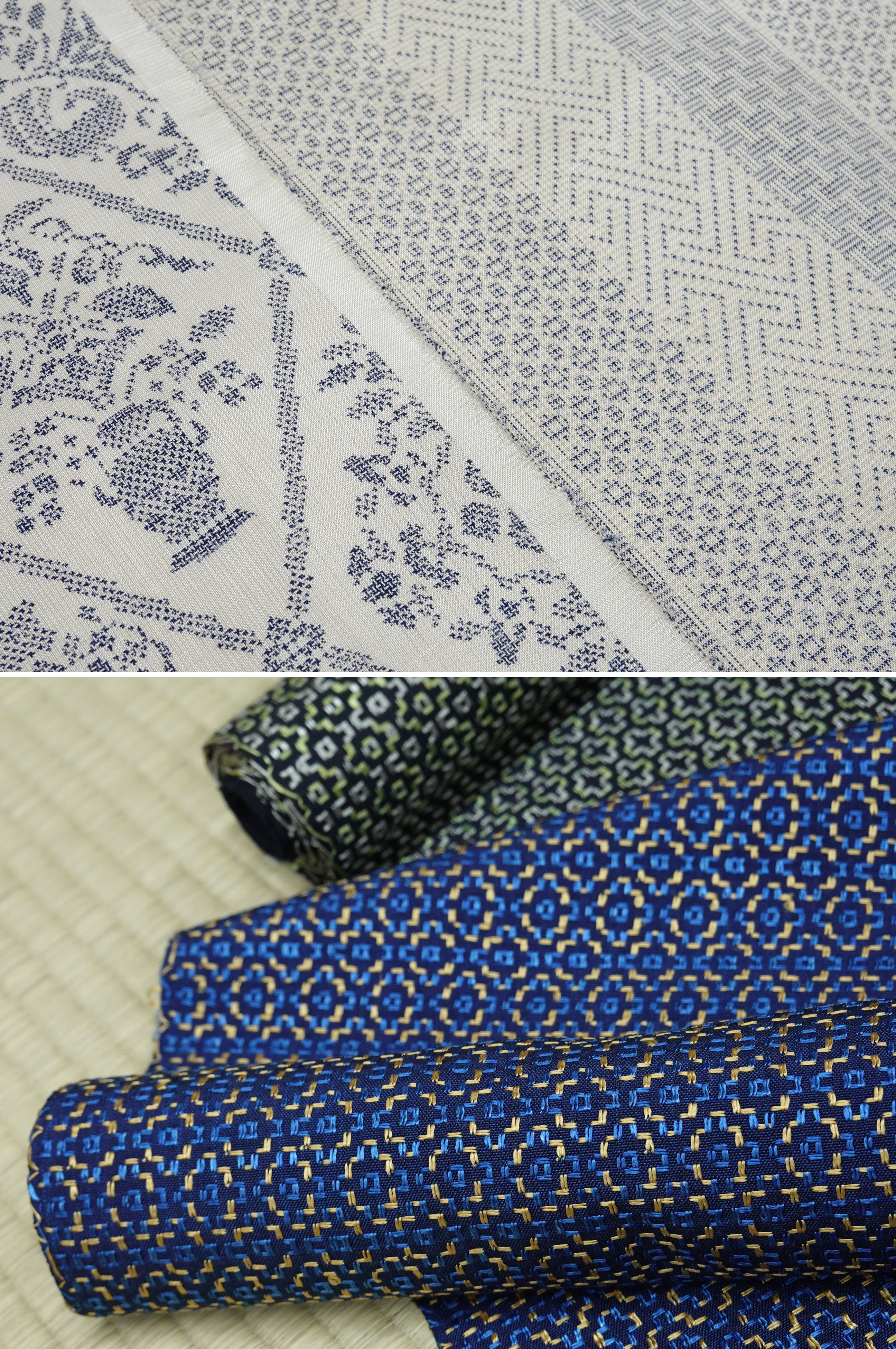 For individuals customers
As we are a wholesaler, we do not have B to C business domestically.
But if you are a international customer, we are plreasure to have your contact.
If you are a Kimono enthusiast interested in an authentic Kimono, we can arrange a Kimono tailoring.
Also, we can consult on arraging any types of tradtional Japanese crafts and arts,
based on our connections in Kyoto, so please feel free to contact us.
Contact us
---