2022.03.29

Understand the Kasuri technique of Oshima Tsumugi / Part 1: "Katasu" and "Hitomoto"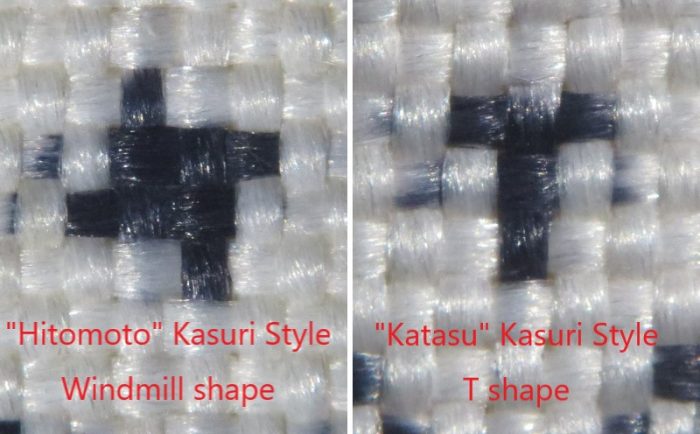 The Oshima Tsumugi's patterns consist of a countless number of extremely small dots. Surprisingly, each dots less than a square millimeter are an independent ikat crossed by warp and weft Kasuri yarns. All the dots are arranged and adjusted by hands to create the spectacular beautiful woven patterns.
There are 2 styles of the Kasuri dots unique to Oshima Tsumugi: "Hitomoto" and "Katasu".
Originally, all Oshima Tsumugi were woven by Hitomoto Kasuri style, which consists of 2 warp and 2 weft Kasuri yarns to create the windmill like shape dot.
On the other hand, the relatively new technique called Katasu, which consists of 1 warp and 2 weft Kasuri yarns to construct the T shape dot.
*Katasu literally means 'half' in Japanese, as the warp kasuri yarns used come down by half from the Hitomoto one.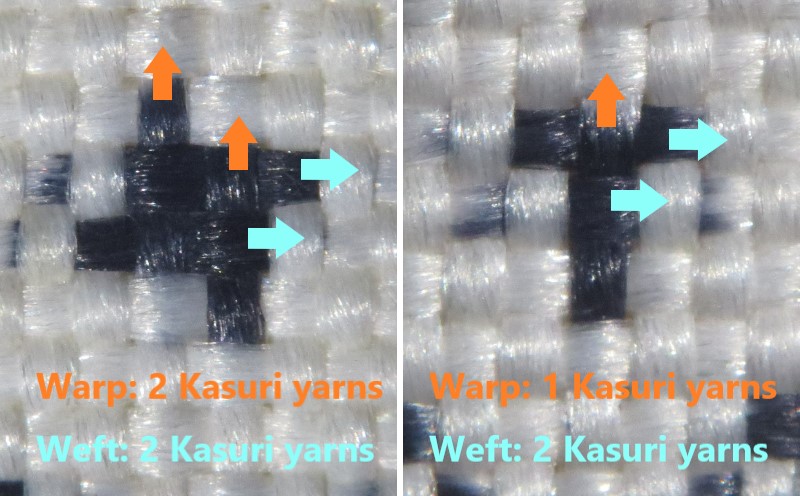 Let's look at and compare the Hitomoto and Katasu Oshima Tsumugi's surfaces.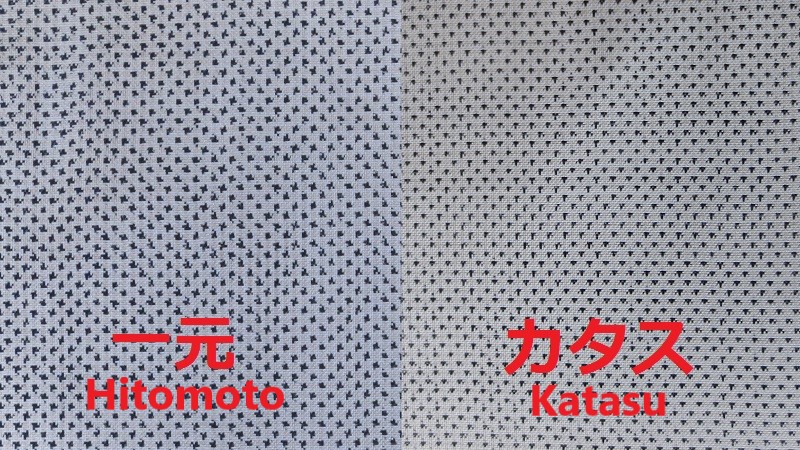 The Hitomoto fabric at the left side looks each kasuri dots more powerful and vivid compared with the Katasu one at the right.
In fact, the Hitomoto one occupies more the yarn-dyed Kasuri surface area and fewer the marginal area, in which the Kasuri area ratio at the Katasu surface only take up about 64% of the Hitomoto surface.
Katasu Kasuri style is easier to weave compared with Hitomoto Kasuri. Because, whereas Hitomoto Kasuri has 4 intersecting points, Katasu has only 3 of them which require comparatively less focus for weaving it.
On the other hand, Hitomoto style requires the weaver's continuous caution for adjusting and creating each windmill shape through weaving (which also goes with the Hitomoto's Kasuri yarns-making process. If it fails to adjust the positions even very little, the whole pattern looks ugly.
Katasu style has been developed in relatively recent times, which soon occupied the whole Oshima Tsumugi's market share and drastically reduced the production rate of the Hitomoto Oshima Tsumugi. Today, it is very difficult to find the Hitomoto Kasuri Oshima Tsumugi on the Kimono market.
The Katasu Oshima Tsumugi, at a glance from inexpert eyes, looks similar with the Hitomoto ones. furthermore, it is easier and cheaper to weave in much larger quantity. Therefore, at the time when the production quantity is prioritized around 1950s~80s, the retailers and wholesalers ordered more the Katasu ones and fewer the Hitomoto ones.
The most of the local weavers are elderly people. The Hitomoto Kasuri weaving requires very hard focus by their eyes. Technically it became more and more difficult and only very few weavers can weave the Hitomoto Kasuri.
In Japan, there are many Kasuri weavings and techniques. However, Hitomoto Kasuri technique is only woven by and unique to Oshima Tsumugi.
We recommend the authentic Hitomoto Kasuri rather than Katasu one when it comes to Oshima Tsumugi. It's a miracle that we can still see and touch such supreme traditional silk craftmanship today.
---