Crafted textile store's blog
2019.07.25

Prehistoric technology, Shina Linden fabric — From bark to yarn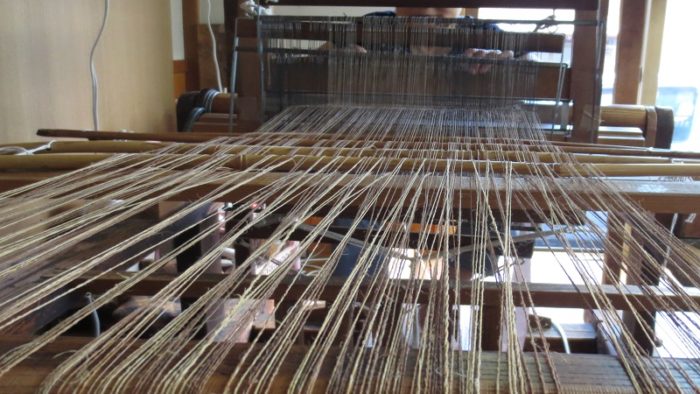 Shina Linden fabric, or Shina nuno is one of traditional bast fiber fabrics, that had been manufactured and worn from Japan's prehistoric time across Japan where grow Linden.
Linden fiber is strong, so that which is used for various purposes including bags or daily commodities, not only for clothing. However, because of the introduction of hemp and cotton, it tradition has dramatically disappeared, and now only several remote villages on the border between Yamagata and Nigata prefecture.
The villages (Yamakumada, Ikazuchi, and Sekigawa) locate in the deep mountain, which takes 4~5 hours to walk from the nearest rail station. In winter, snow reaches thickness of 3 meters, and until a few decades ago, the villages lost contact with the town.
In the long winter of agricultural off season, their husbands went away to work at town and wives left behind wove all day long everyday. Because it was valuable income source, they had to do nothing but weaving, which was their daily life in mountain.
In modern days, obviously there are no successors and younger generation for doing such backbreaking work, and moreover, the villages themselves are endangered for continuing. Right now the average age of the artisans is more than 80 years old, so that the production and continuation of Shina cloth is harsh. Especially, the logging process along with hard physical labor became more difficult to get on.
Linden grow on a slope near humid riverside or valley. The logging is done during rainy season when the barks are soft and easy to peel away. However, climbing on that season and peeling away hard barks are difficult task for older people. Making of Shina Linden cloth is almost as if forestry labor.
Peeling away barks, drying it out, boiling up in ash water, fermentation, twisting fibers by hand, and loomed by hand. It is a common process in making of other traditional bast-fiber fabrics, and same as others, the process of making a yarn occupy the larger part of the manufacturing Shina cloth.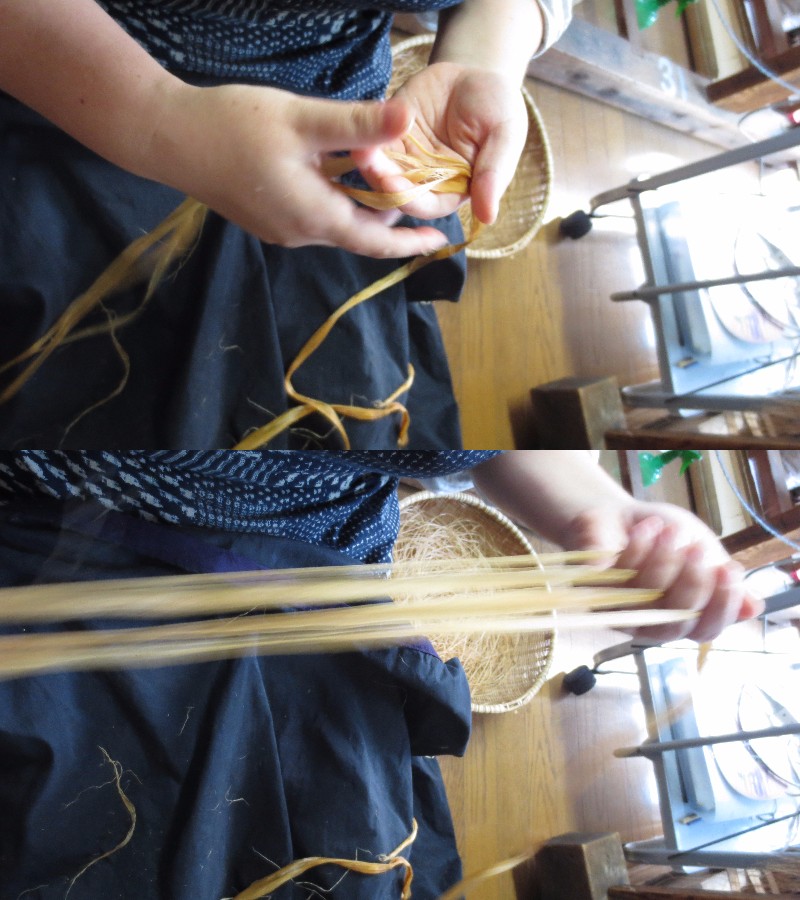 The dried barks are split off by fingers into 2mm wide thin fibers. The split fibers are connected twisting the ends together. Obi of Shina cloth uses 400m length of the yarn.
These pictures of making process of Shina linden cloth are just a tiny fraction of how backbreaking and sophisticated local artisans actually carry out each processes.
In order to continue the tradition, the techniques of fostering natural good quality Linden trees, spinning good quality thread, and weaving beautifully, should be handed down generation to generation.
Those villages uphold continuously such laborious task, and respect their tradition by being remarkably faithful to the original techniques inherited from ancient time. It is almost a miracle that a prehistoric time's folk life and technology can be seen still today.
---