Crafted textile store's blog
2019.01.13

Unique zanshi (wasted yarn) oshima tsumugi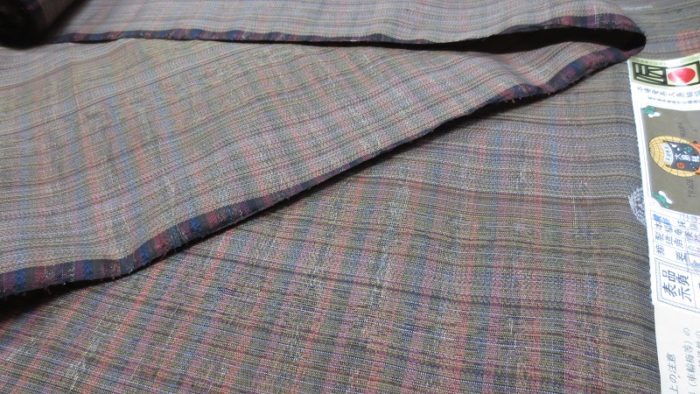 Oshimatsumugi's delicate kasuri (ikat) yarns are produced by unique hand loom, called "shimebata" where yarns are once weaved according to the pattern in order for creating the resist dyeing on yarns. Usually ikat or kasuri employs tie-dyeing method, yet oshima tsumugi develops, you can say, loom-dyeing method,  which may be the world's most complicated and elaborate yarn resist dying technique.
Thus, inevitably oshima tsumugi becomes expensive. Yet by producing several lots of kasuri yarns, it manages to drive down the cost. On the shimebata process, kasuri yarns are produced not just as much as the amount used for weaving the oshima tsumugi, but it is necessary to be produced the extra amount as the backup for many broken threads on the hand looming process. Its remained or wasted kasuri yarns are inevitably produced in a certain amount, which is called "zanshi".
Additionally, if misaligned kasuri yarns are produced on shimebata, a vast amount of wasted kasuri yarns are born. Dyeing again over these wasted yarns for reuse is a also way to do it, but a unique authentic value is found out on reusing these yarns as it is for weaving a textile, which is the Zanchi weaving.
The initial picture is the oshima tsumugi zanshi weaving made of the combination of wrap and weft zanshi. The wrap yarns are the remaing yarns of mud dyed striped oshima tsumugi, and on the weft yarns, different types of zanshi are weaved into. It looks like the sandstorm pattern displayed on old-day's computer or tv scream, yet it is impossible for piece-dyed to express this pattern.
Zanshi weaving is often called "jaja ori, or yatara ori", which means "get-going-on weaving", weavers can make their work easier and faster, as it is not necessary to adjust the wrap and weft kasuri yarns. Even though it is called remained yarn weaving, it is recognized as the authentic oshima tsumugi with oshima tsumgui association's certificate stamp and the government's traditional craft certification.
The textile below have the enigmatic patterns at the regular intervals. The remained weft yarns were not enough to make a tan of textile, so that the intervals were required.
Below I'll introduce roughly some of zanshi oshima tsumugi weavings.
Below' product is that making good use of the weft remained yarns, to express a sowed paste (makinori)-like atmosphere.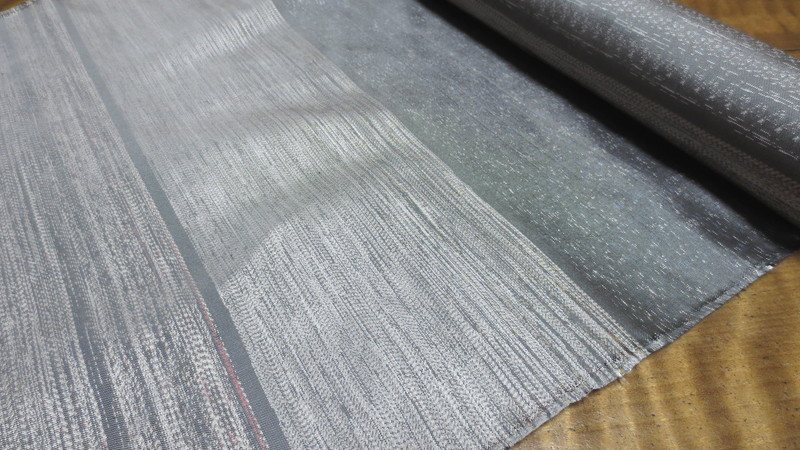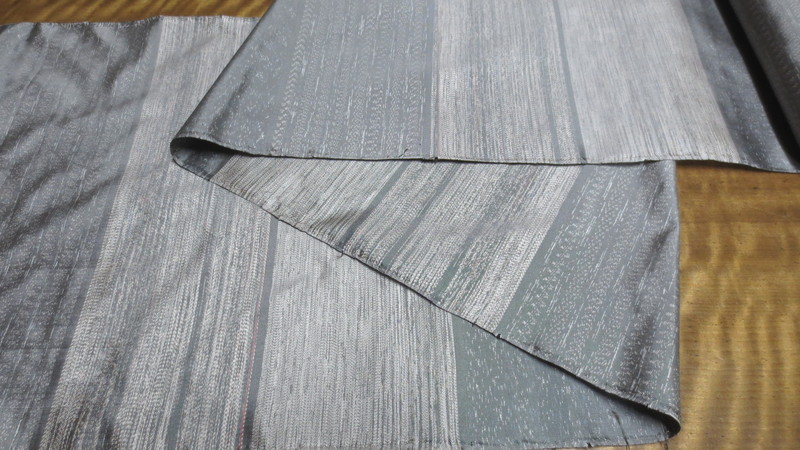 In terms of the price, zanshi oshima tsumugi are reasonable compared to normal oshima tsumugi. Yet, it is impossible to create this product out of nothing, and no two things are the same. So that it can be said that it is a good deal.
The finest zanshi weaving is below.  This zanshi weaving is made by a artisan, Yukichi Masuda. The pattern is designed to match when it is tailored for kimono.  While Oshima tsumugi have a tons of variety on the patterns with elaborate kasuri techniques, there are few of oshima tsumugi can express delicate and chic atmosphere. This product is a brilliant idea work.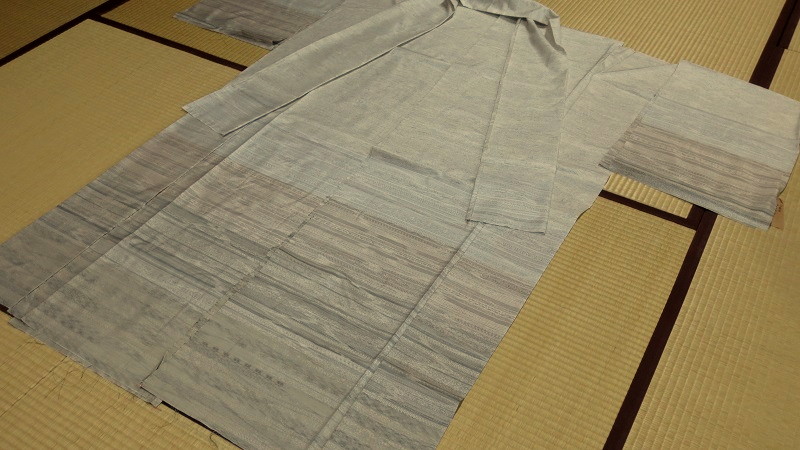 ---