2019.06.21

Kihachijyo — a primo traditional silk textile made in Hachijyo island
Kihachijyo, one of the prime grade silk textiles, had been beloved and worn only by the Feudal lords in the Edo period, so that it has different origins from other Tsumugi textiles in which other tsumugi were started as formers wears.
Kihachijyo is a yarn-dyed and dyed by only 3 colors; yellow, brown and black. Yellow is dyed by small carpetgrass, a.k.a, joint-head grass. Brown is by Machilus, or Japanese Bay tree. Black is by Itajii Chinkapin, or Japanese castanopsis tree. All of these plants are grow wild in the islands and collected for each of the dyes.
Kihachijyo is expressed by its limited 3 colors and always with checked or striped patterns. However, the combination of the shadings on 3 different colors and complicated weaving techniques can express infinite representations.
Yellow of Kihachijyo
Beautiful yellow, or can be seen as beautiful golden color, is expressed by joint-head grass. It is a kind of bent grass, and a weed grown pretty much everywhere.
The dried joint-head grass is decocted for extracting the yellow dye. The yarns are  put into the tank and dried in the sun; it is called "Hushizuke" process. Additionally, it is put into the wooden ash water: "Akuzuke". This process of Hushizuke and Akuzuke is repeated for some dozen times.
That's the secret of Kihachijyo's beautiful color as well as washing fastness.
Brown of kihachijyo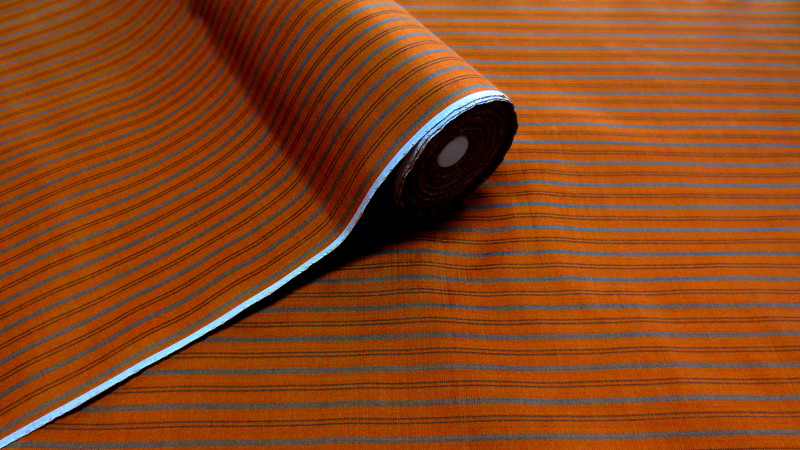 It is also called "Tobi" color, the florid, bright grown color is made by the bark of Machilus tree. It is called "Madami" by locals, a kind of lauraceous tree, evergreen tall tree, reached almost 20m.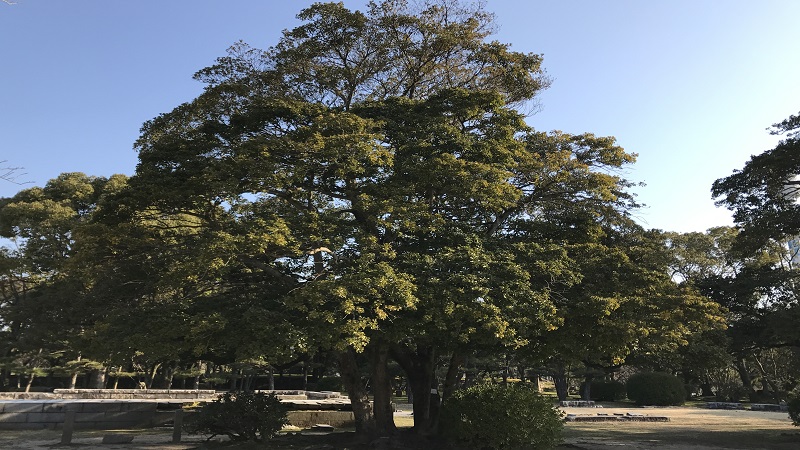 The bark contains tannin plentifully, so that decocting the bark can produce the dye. It is dried first and combined with combustion ash for decocting process. Same as joint-head grass, dyeing the yarn and dried it in the sun for some dozen times of Hushizuke process, as well as of Akuzuke for putting into ash water for stabilizing the color.
Brack of Kihachijyo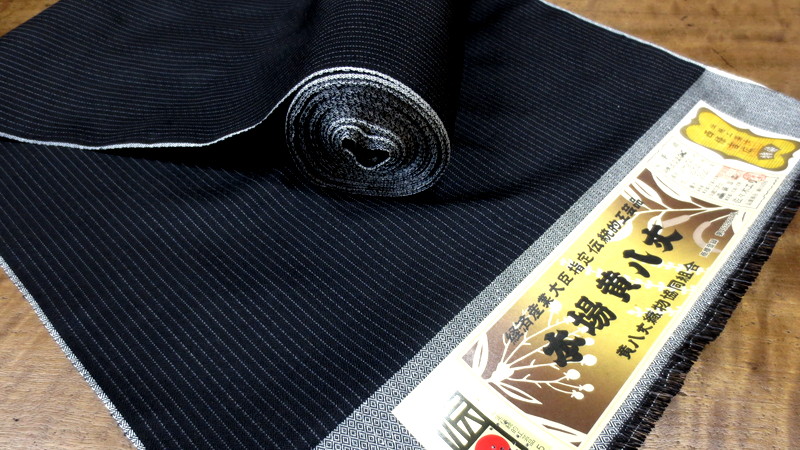 Black color is extracted from the bark of Itajii Chinkapin. Called by locals "Sudajii", it is a kind of beech tree, or more familiar, a acorn tree.
The bark of Sudajii is dried in the bundle, and then decocted for Hushizuke. Every time a newly decocted dye is prepared for, a very burdensome work. In this time, baked ash is not used, which is different from the other colors.
For the mordanting, The island' mud is employed. Iron contained in mud strengthen the cohesion between silk fibers and the plant dye. For the yellow and brown, wood ash is used for mordanting, called "Hushizuke", and block employs mud so that it's called "Numa(pond)-zuke".
---