2019.04.14

Yuki tsumugi – the best-ever silk texture: Finger-pulled silk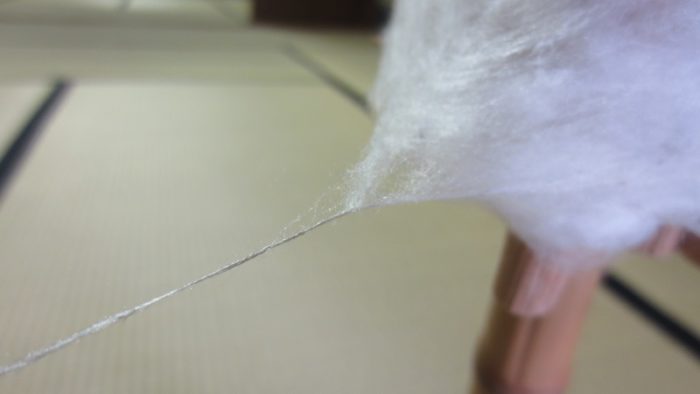 Yuki tsumugi is inscribed for UNESCO intangible cultural heritage. Only Yuki tsumugi and Echigo jofu/Ojiya chijimi have been inscribed among Japanese textile traditions so far.
How astonishing Yuki tsumugi is about its yarn making process. Yuki tsumugi's all of weft and wrap yarns consist of finger-pulled silk.
It is directly finger-pulled from floss silk, which produces an zero-twisted yarn. Yuki-tsumugi's silk thread is known as the only non-twisted silk unlike any other in the world. It is untwisted so that the thread's condition and texture is kept almost same as that of a cocoon.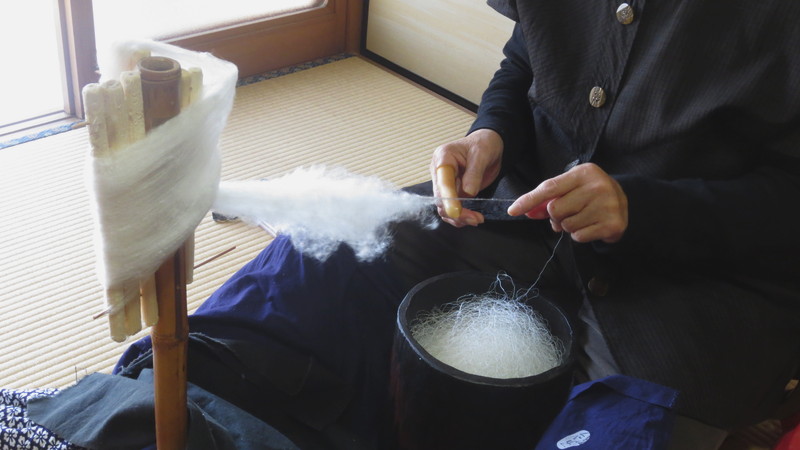 For a bolt of Yuki tsumugi, approximately 30,000m to 35,000m of yarn is required. It takes more than 2 months for a craftswoman to produce that amount.
At even present days, there are more than 300 "itotori" craftswomen in Ibaraki and tochigi prefecture. Their average age is more than 75 years old.  At the best days around 1970, the number of itotori craftswomen reached 8,000 people.
How they make finger-pulled silk?
First, cocoons are soften in boiled water with baking soda, and then open it up and 5 of them are lapped over together. Its sack-like form is called "Mawatabukuro".
The mawatabukuro for Yuki tsumugi is produced at Hobara, Hukushima prefecture, which is known as the highest quality mawatabukuro.
Mawatabukuro is wrapped around a wood stick called "Tsukushi", and drag a yarn out by fingers with saliva. The thread should be pulled out in even thinness. The quality of the yarn is depends on the degree of proficiency.
The yarn pulled out from Tsukushi is put into the wooden container called "Oboke".
Let's look closer the yarn.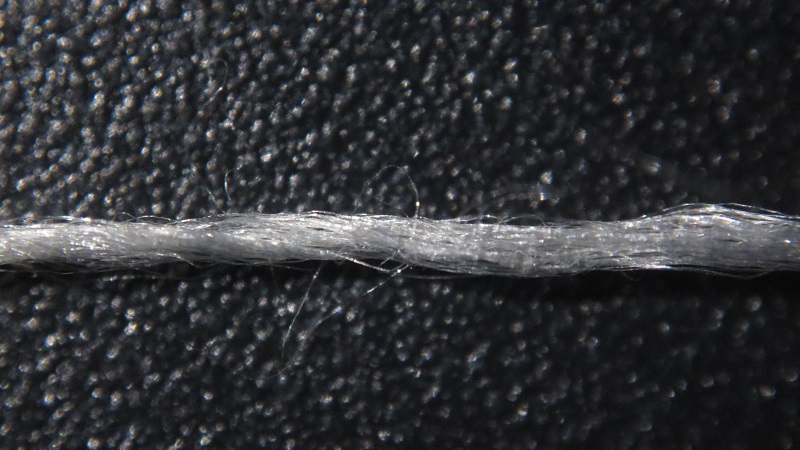 Looking at the left side, it seems having a bit of twist. However, each of fibers are dissociated precisely, which tells that fibers are pulled out as itself directly from cocoons. That's the secret of supremely light texture, how each of fibers are out on its own.
Therefore, before it is loomed,  it should be starched up. Flour is starched up plentifully on the yarn, in order to be consolidated enough not to be cut off when looming. After weaved up, the textile is put into hot water for remove the starching (the process is called "Yudoshi"), which reinstate the yarn's texture.
---