Crafted textile store's blog
2019.03.27

Simple cross kasuri patterned Oshima tsumugi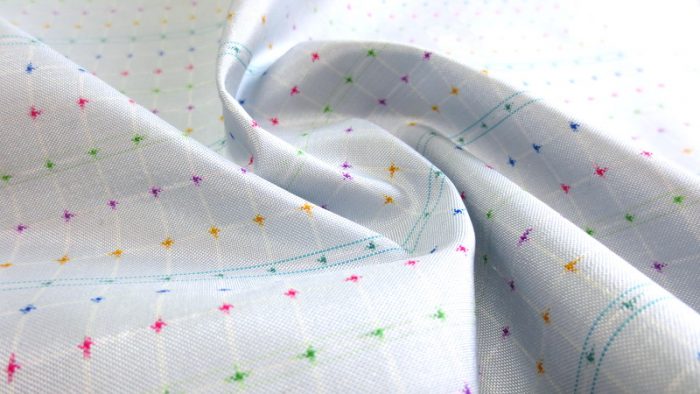 Oshima tsumugi is famous for its mud-dyeing technique and elaborated kasuri patterns. Meanwhile, simple designed, bright colored oshima tsumugi are also produced substantially.
The mud-dyeing oshima tsumugi's overall tone is inevitably dark (even with elaborate kasuri) as you can see the picture below.
From the 1950s, the spread of chemical dyes enable more diverse color representations, which were not possible by vegetation dyeing. Adapting chemical dyes give representational richness, so that the bright designs that overturned the fixed image of dark Oshima tsumugi has rapidly increased.
The colorful Oshima tsumugi on the picture just above is all made by power loom.
The simple striped or checked patterns can be produced through high-volume manufacturing by power loom, which offer low cost Oshima tsumugi, and gained much popularity. Yet, after all, the authentic beauty and craftsmanship are not there.
We, Hirotatsumugi, stick to hand-loomed warp & weft kasuri Iro-Oshima(colorful Oshima). In this entry, among our iro-Oshima stocks, we introduce the unique combinations of simple striped or checked pattern with crossed kasuri (hitomoto-kasuri).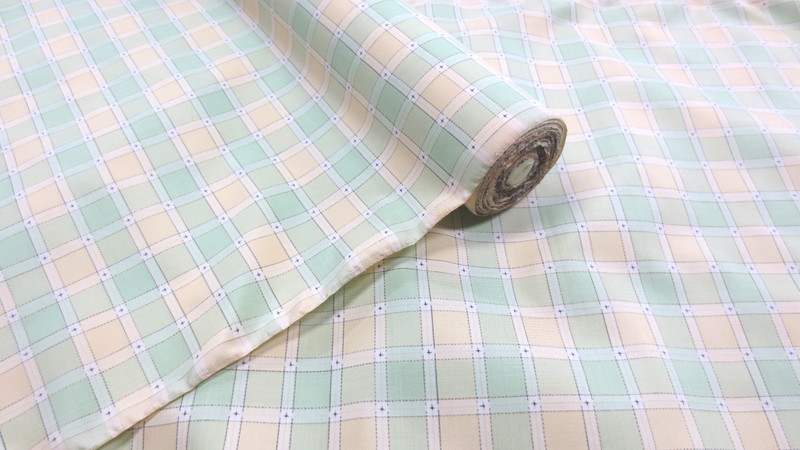 The combination of light green and beige colored yarns create the checked pattern, and on the intersection points, crossed kasuri are placed. It is bright and spring color.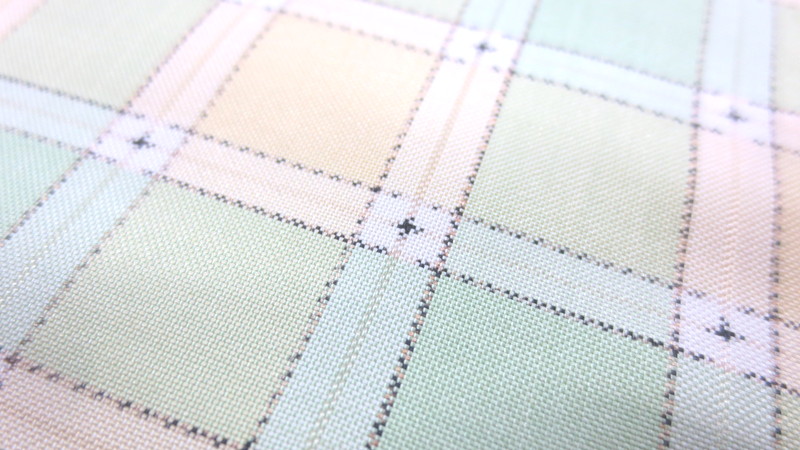 Other than the authentic crossed kasuri (hitomoto kasuri), zanshi (remains of kasuri yarns) are used for the check patterns' frame borders. The zanshi are re-use, but the hitomoto kasuri need to be produced exclusively on the kasuri yarn making process.
These kasuri yarns made on "Shimebata" in block are used for other variations.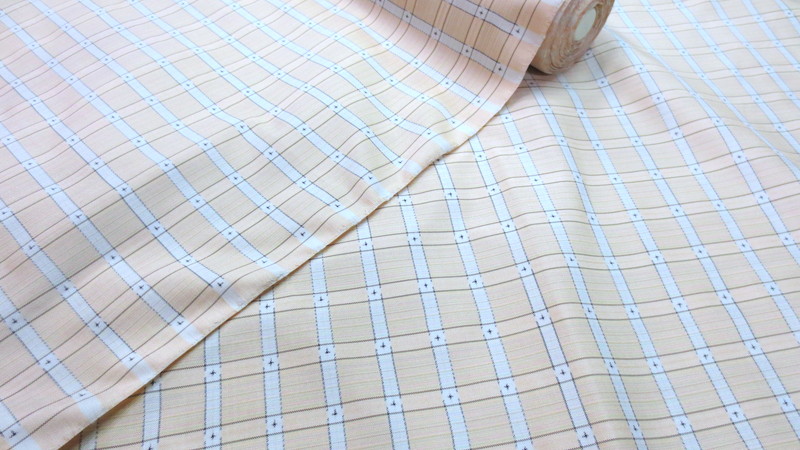 This is the different color version with same kasuri pattern, which uses same kasuri yarns.
The below is using almost same warp and weft yarns, with a bit of composition arranged.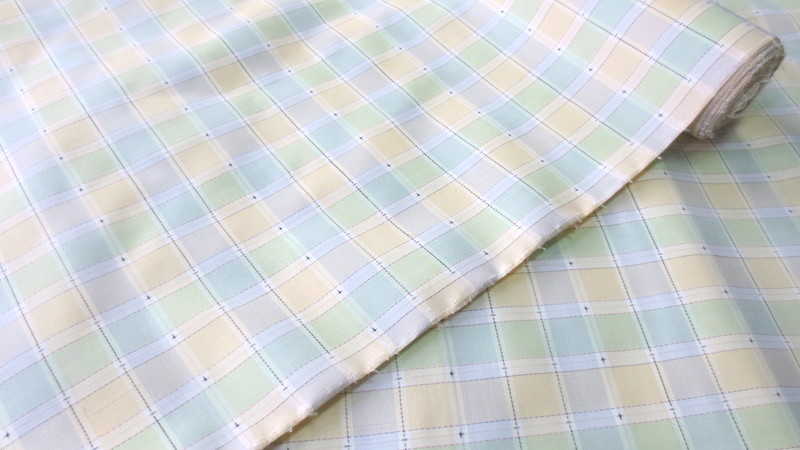 Below, our other unique, originally desgined iro-oshima, will be introduced.
Also, we have stocks on black, mud-dyeing based Oshima with cross shaped kasuri. Sometimes, mud-dyeing yarns and chemical dyed yarns are combined on such products.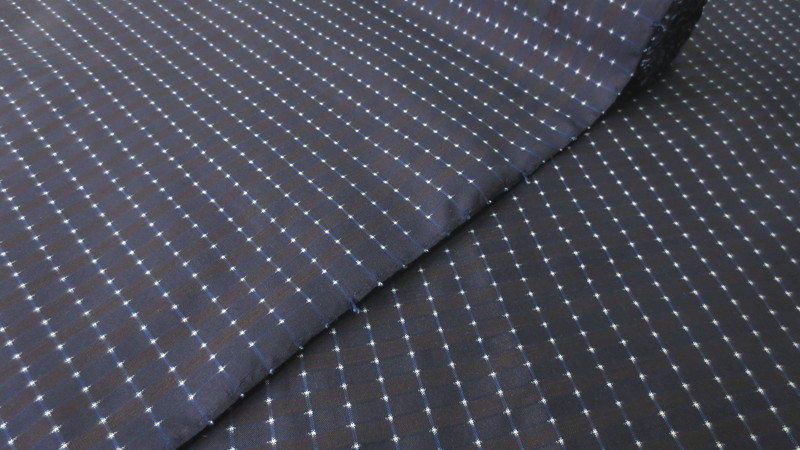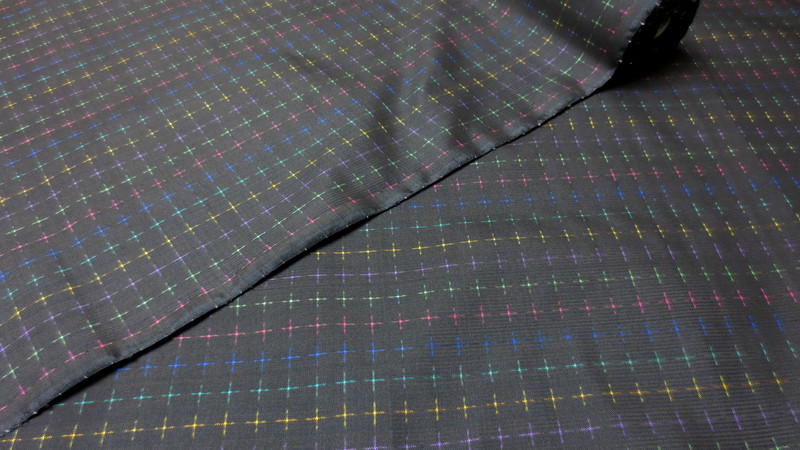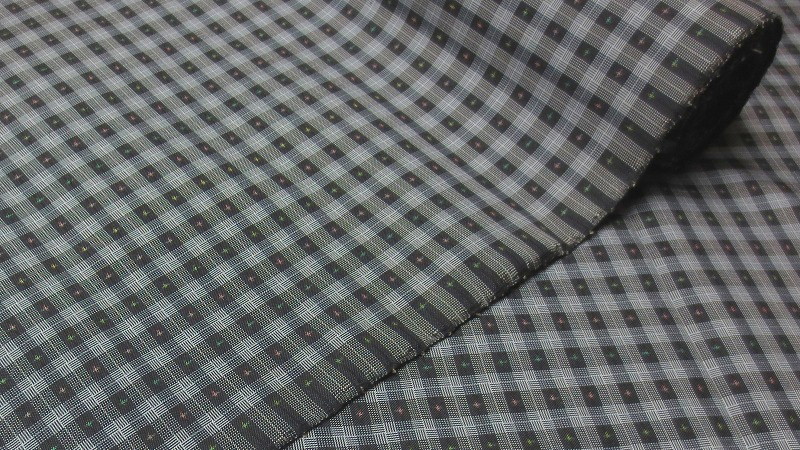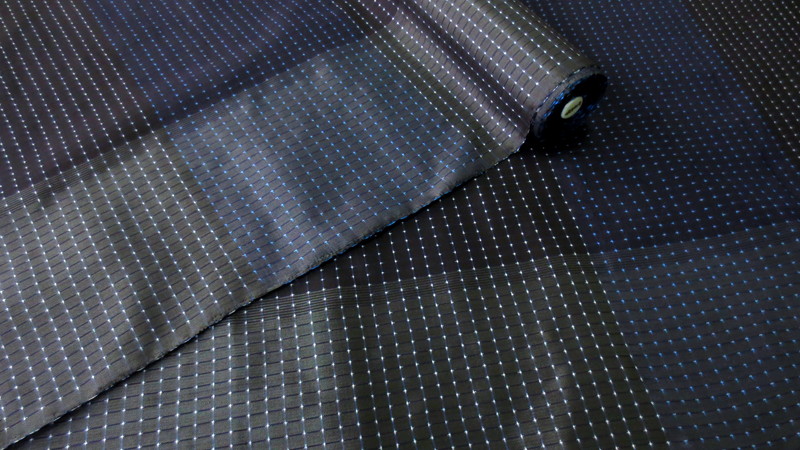 ---