2019.12.13

Omi-jofu, descended from fantom Takamiya-nuno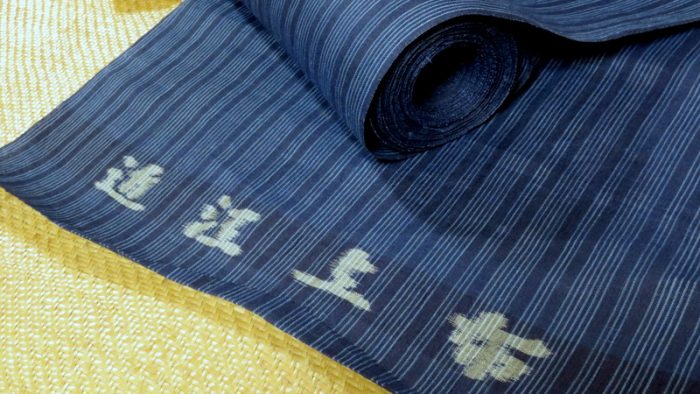 Omi-jofu is a traditional hemp and ramie textile, designated as a list of Japan' traditional crafts. Despite its name recognition, rarely met even in kimono stores in Japan, due to its scarcity. So what is Omi-jofu that was descended from fantom Takamiya-nuno?
Blessed by the bounty of water resource and its humid climate, "湖東地域" the eastern lake district has been known for famous hemp and ramie textile producing region. In neighboring region, almost all of households had involved in the textile producing in some way. At the peak in the Edo period, a million tan were produced annually, known for one of largest textile producing area.
A large post town Takamiya-juku on the Nakasendo (Hikone-city today) had became the distributing center, and its "Takamiya-nuno" had spread across Japan by Omi merchants. Besides, Hikone domein brought out the highest quality Takamiya-nuno for a tribute to Shogunal family or imperial court.
Takamiya-nuno was unique and stand out in the use of hemp. Due to hemp's shorter fiber length compared to ramie, making hemp yarn is more arduous. Hemp fabric woven by thick yarn was hard and crude, used commonly for farmer's wear.
On the other hand, an astonishingly sheer hemp fabric using finest hemp yarn that is generally called 上布"jofu" (includes sheer ramie fabric), was soft and delicate beyond cotton, having superb texture. The highest quality Takamiya-nuno was called 白高宮 "Shirotakamiya" and known for the best hemp textile in Japan.
After the WWⅡ, under the GHQ of the American occupation the cultivation of cannabis had been prohibited and the industry and culture of hand-spun hemp yarn had gone suddenly. Instead, foreign hemp yarn and mechanically spun ramie yarn have started to being used, and these hemp and ramie textiles made in the eastern lake district have became known collectively as "Omi-jofu". In 1977, Omi-jofu has been inscribed as a traditional crafts of Japan.
Omi-jofu has roughly two types: 生平 "Kibira" and 絣 "Kasuri".
In "Kibira", under the requirements of traditional crafts, the weft yarn must be hand-spun hemp yarn. Mainly Kibira are made for obi, using thick hemp yarn now.
"Kasuri" Omi-jofu can use ramie yarn and most of them are machinery-spun, while woven by a hand loom. Also it must be a yarn-dyed pierce, and while various kasuri dyeing techniques used to be used, today comb-printing and stencil dyeing are used mainly.
At this point, there are 15 traditional craftspeople and only 5 of them can hand-spun hemp yarn. Even very few compared with at the peak in the Edo period when there were tens of thousands of seasoned craftspeople, hopefully we would like to see the revival of fantom 白高宮 "shirotakamiya" using handspun hemp yarn.
---