2019.01.14

Echigo-jofu's white cloth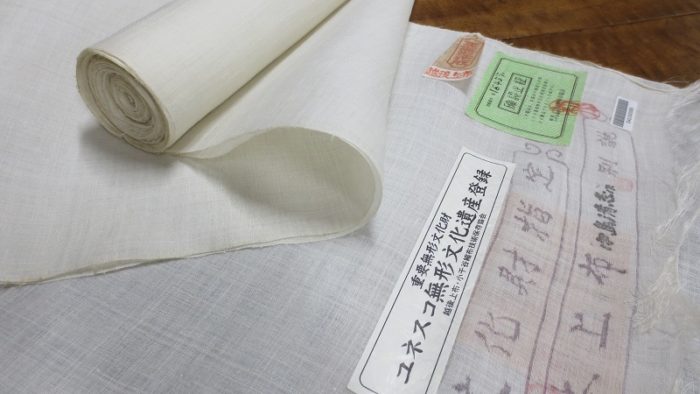 The world highest grade hemp textile, Echigo-jofu, whose patterns always are small splashed, checked or striped. But also it has a white cloth on the assumption of piece-dyed. At the highest of the prosperity, the annual production is about 2 hundred thousand tans, but now the genuine Echigo-jofu that is made of the traditional method (intangible cultural heritage) is produced only 30 tans annually. I'll introduce the white cloth that is too rare to be seen.
Using all the finger twisted ramie threads, and the threads are weaved by primitive hand loom called "jibata". Taking into account from making of the yarns, the production of a tan of Echigo-jofu makes it through the winter two times. The most expensive Echigo-jofu with elaborate kasuri pattern would cost several million yen.
The production of a white cloth is though to be easy work. However, it is weaved on the assumption of piece dyed, it requires scrupulous attention not to include weaving unevenness or threads joints, because it cannot smooth out the weaving errors by the colors and patterns. Such careful consideration is paid to weave the white cloth, which produce the highest quality ramie cloth with beautiful texture of nature.
Echigo-jofu's white cloth is bleached by snow bleaching, so that it does  not have the worm colored tone that is for instance of Miyako-jofu's white cloth. It is white as if it express as it is the scenery of the region where snow covers everything in winter. Looking forward to see how the highest grade echigo-jofu's white cloth is dyed.
---