Crafted textile store's blog
2019.01.07

What is tsumugi?: Part 1 tsumugi yarn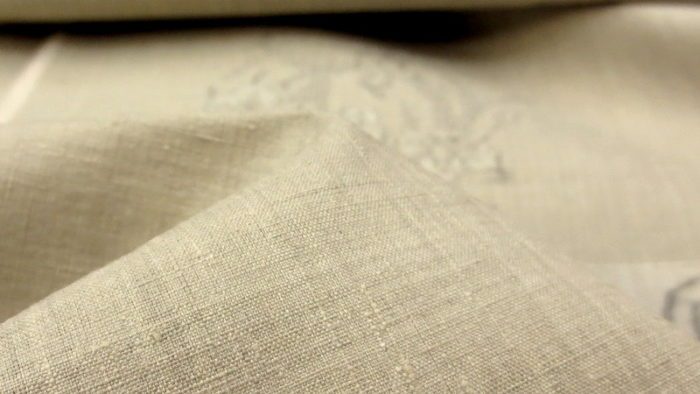 The development of Tsumugi textile in Japan would probably be a unique tradition unlike any other in the world (please let us know if anyone knows any resemble silk textile traditions around the world). Tsumugi is the silk textile woven from the silk floss of wasted cocoons, which are not suitable for producing reeled silk. It originated as a by-product of reeled silk. In the medieval Japan, whereas the reeled silk had been produced for the nobility and upper classes, the peasants utilized the wasted or dupion cocoons remained in the process of producing reeled silk, for their own use. The cocoons are stretched out in hot water, which become a mawata (silk floss), and then spun by hand into a yarn. Despite its humble origins, in the modern Japan, tsumugi is highly prized and became one of the most valuable kimono textiles.
Originally, tsumugi refers to a silk textile woven from hand-spun silk of mawata. At the present days, tsumugi is generally understood roughly as an uneven knobby silk textile, and there are so many varieties in the textiles named 'tsumugi' on the Japanese kimono market. So, I'll sort out the "tsumugi textiles" existed in the Japanese kimono market.
What is tsumugi yarn?
Tsumugi textiles are woven from different types of tsumugi yarns. Tsumugi yarns are mainly used for the weft yarns, sometimes used for all of the wrap and weft yarns, or mixed for the part of the weft yarns. Let me explain about the different types of tsumugi yarns.
Originally, a tsumugi yarn is about the yarn withdrawn directly from mawata, or silk floss, that is made from stretching out the cocoons.
There are two types of tsumugi yarns made from mawata; the twisted yarn spun from mawata by a spindle or spinning wheel is called 手紡糸te-bou-shi (hand-spun tsumugi yarn), and the yarn with no twist withdrawn by hand directly is called 手紬糸 te-tsumugi-ito (hand-pulled tsumugi yarn).
Although tsumugi yarns had been a by-product of reeled silk, reeled silk now became possible to manufacture stably at low cost due to the development of automatic reeled machine. As a result, tsumugi yarns that require meticulous hand labor, has became more valuable than reeled silk.
There are also, the tsumugi-taste, manufactural yarns.
Those yarns are manufactured intentionally for having nubs and thin-thick unevenness, which are called Kenbouchu-chi (絹紡紬糸, it can be equal to noil or bourette silk, known to the Western world). These yarns can be manufactured by cutting or crashing the wasted cocoons, and then the fibers are stretched and twisted into a yarn. So the yarns are categorized as short fiber silk, different from reeled and tsumugi silk.
The processing of tsumugi and those noil yarns are obviously different, yet at a glance, their appearances are hardly distinguishable. It can be said that the low price tsumugi textiles are all made by such noil yarns. Also, there are other types of the tsumugi-taste yarns that entangled reeled silk with nep yarns, or that damaged its surface by the machine processing.
*Some of the spun tsumugi silk are highly expensive due to the special processing.
Furthermore, there are traditional methods such as Zaguri-ito(座繰り糸), hand-reeled silk that spins a yarn directly from the cocoons in boiled water by a hand-reeling machine, which are not precisely a tsumugi yarn, yet possess unique neps and no less authentically tasteful than tsumugi yarns. Shamefully, so many traditional methods that possess unique neps and beauties have already disappeared.
The noil yarns or Zaguri-ito are, in the wider sense, considered as "tsumugi yarns". The labels of textiles named "~~ tsumugi" can be found widely in the Japanese market. Generally, tsumugi yarns are recognized as "silk yarns having neps". However, it is very important to know about the process and how silk is converted into a yarn.
Following blog, I'll introduce the tsumugi texiles by classifying them.
Under construction…
---