Crafted textile store's blog
2019.01.10

Japanese ikat art, "Kasuri" / Part Ⅰ , Making of kasuri yarns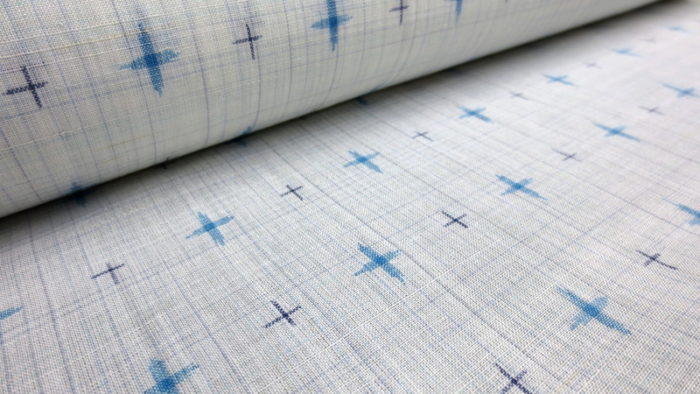 Kasuri – a Japanese ward indicating ikat, which is originated in India, gone through incredible development at the east end of Japan. In order to understand about Kasuri, I'll explain about it in several different entries.
In this first entry, I'll write about "Kasuri yarns" that are composed of the Kasuri patterns.
What is Kasuri?
First of all, what is Kasuri? It is a pattern on textiles made of the combination of pre-dyed yarns (kasuri yarns). As the color is placed in the yarns before weaving, opposed to the color being printed or drawn on the fabric after being woven, it is called a yarn-dyed textile, opposed to a piece dyed textile.  Piece dyed textiles have greater flexibility on the expression of patterns, because the color is painted by brush or mold on non-colored fabric. On the other hand, yarn dyed fabrics have the restrictions on the pattern expression.
The initial picture above is the simple cross-shaped pattern weaving, made of the combination of weft and wrap kasuri yarns. It is relatively easy kasuri technique.
Below is the ohima tsumugi, in which the pattern is made by and composed of thousands of its tiny cross-shaped patterns.
The both of the above textiles are same yarn-dyed weavings, but are incomparably different on the quality and effort to make the pattern. The difference on the man-hour costs is especially pronounced in their prices, have more than 50 times price difference.
"Why put so much effort to make a pattern all the way to …
Under construction…
---